Whether it's your next getaway or you have already decided to reconnect with nature to have the peace of mind and soul, a treehouse stay with all the bells and whistles is worth it. Florida's biodiverse landscapes make the best theme for unique treehouses to help you have a stay like never before. Go for waterfront stilt houses or treehouses with a historical touch, Treehouse rentals Florida are top-notch fun places.
The luxurious rentals offer a wide range of fully-equipped houses. From swimming pools to hot tubs, beachfront and Zen gardens, treehouse rentals Florida are worth a getaway plan for you.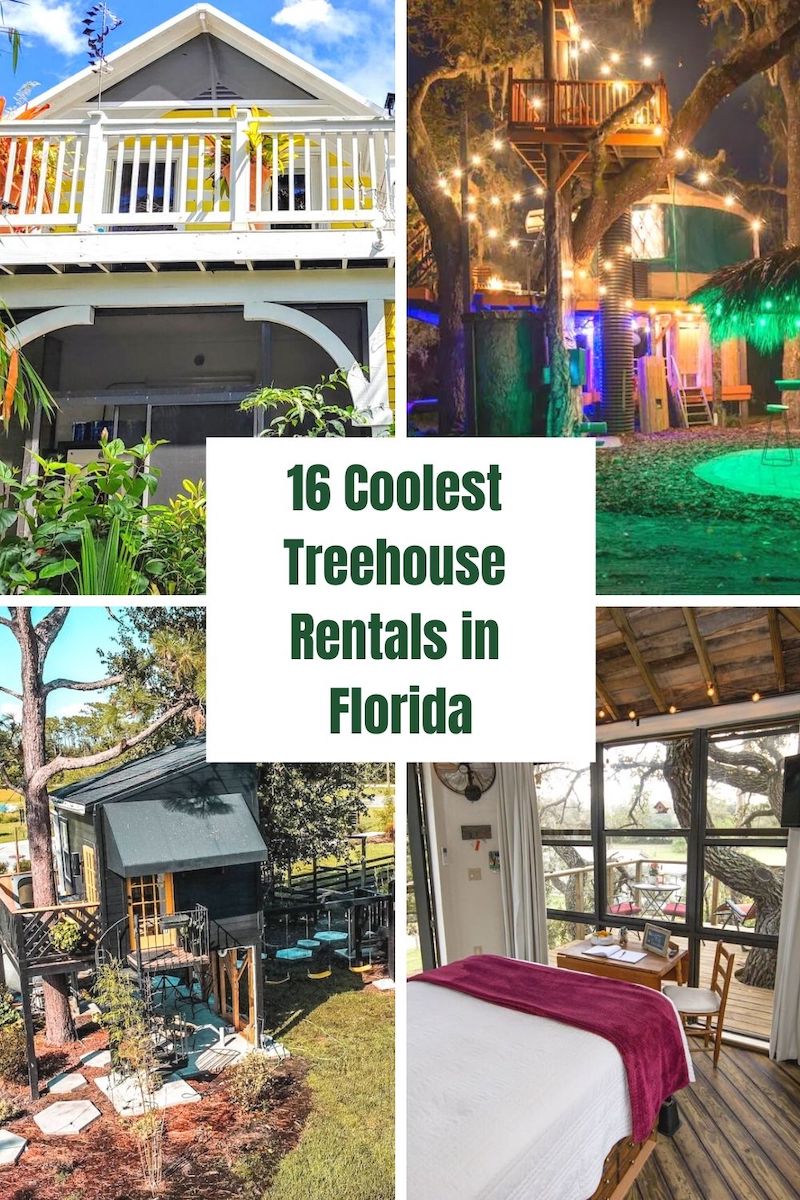 ---
1)
Paris-Themed Treehouse
Location: Haines City, Florida
Price: $70+ per night
https://www.vrbo.com/7128224ha
This luxurious treehouse boasts the amazing taste of Paris in Florida, United States. This hexagon-shaped treehouse in Haines city is ideal for up to 5 guests. It will indulge in your childhood memories luxuriously. Go with your family/friends or make it your romantic treehouse getaway, this place perfect for everything. The activities nearby like the Grenelefe country club offer swimming pools, hot tubs, golf course, fitness centre, and won't let you get bored. Explore the theme parks and have a magical stay at Florida Treehouse Rentals.
The treehouse is carefully equipped with amenities to make you feel home. The living room has a comfy couch and the white interior exposed beams and updated kitchen in this treehouse complete extravagance. You can access free WiFi and stay entertained with the flat-screen cable tv available with built-in DVD player.
View Photos, Read Reviews & Check Availability
---
2) Treehouse Paradise at Amelia Island Plantation
Location: Amelia Island, Florida
Price: $217+ per night
This stunning vacation rental is actually in a condominium, but located in in the center of the resort on the second story, you're surrounded by trees from nearly every direction. Guests love enjoying their morning coffee on the balcony while being shaded under a canopy of trees with hanging Spanish Moss!
The complex itself is loaded with amenities including a swimming pool, tennis court, golf, and tons more nearby attractions.
If you're thinking about heading over to Amelia Island, this is a definitely a top place to stay!
View Photos, Read Reviews & Check Availability
---
3) Treehouse in the Cloud
Location: Saint Cloud, Florida
Price: $150+ per night
https://www.airbnb.com/rooms/29407433
Have some romantic times in the clouds during your stay at Treehouse in the Cloud, Florida. This treehouse is perfect for couples as it accommodates 2 guests. It is fully equipped with stuff you will need for a relaxing stay. From bathrooms to the bedroom, a deck to the kitchenette, this place has everything we all care for while away from home.
Meet and greet the 4 horses that you will find on the property. Take out those carrots in the refrigerator and feed your new horsey. Be friends with these horses and most probably, you won't fail! Don't worry about the connectivity because WiFi is available. The fire pit in the common area of this treehouse will give you some unforgettable love-filled memories. The amenities at this treehouse include toaster, air cook, electric frying pan, along with a microwave suitable to cook anything you want.
View Photos, Read Reviews & Check Availability
---
4) Danville Treehouse
Location: Geneva, Florida, United States
Price: $180+ per night
https://www.airbnb.com/rooms/19796759
This is the best place to make your treehouse dream come true. Perfect for two, Treehouse in Danville is 5 acres of private getaway surrounded with natural beauty. You will stay among some 15 feet giant oak and magnolia trees which makes it a natural getaway. The tree-like residential elevator will take an 18-foot yurt found in the trees. This treehouse has all the bells and whistles including a full bathtub with a bidet overlooking panoramic views. Amenities include a microwave, mini-refrigerator and sink to make it feel like home.
This treehouse has a queen-size Murphy that assures your comfort with enough space. The living area is quite spacious. The large flat-screen satellite TV and high-speed Wi-Fi with Netflix and Amazon will make sure you stay connected as well as entertained all the time. Enjoy your deck time on swing chairs and tables overlooking some amazing views. The yurt deck has a gas grill, gas fireplace with four seats to spend fun times.
View Photos, Read Reviews & Check Availability
---
5) Luxurious Treehouse with Mineral Pool
Location: Palm Beach Gardens, Florida
Price: $210+ per night
https://www.airbnb.com/rooms/42412603
This treehouse located in tropical South Florida is a true form of luxury. Supported by two pine trees, it has a mineral pool for the visitors. Like most of the treehouse rentals in Florida, the location is full of natural trees like bamboo and oak trees. Your stay at this modern treehouse will be a secluded one yet you will have access to the sources in the city. A small farm within the vicinity will give a unique farm experience with animals like ducks, chicken, Prairie dogs, and squirrels.
The main floor in this treehouse has a queen sleeper sofa along with a full bunk bed. This place can accommodate sleep for six people in common; 2 adults, 4 kids or 4 adults, 2 kids. The treehouse is fully equipped to give you an ultimate comfort level. . You will find a kitchenette full of necessary equipment. Most of us can't give up our coffee/tea time which is why the treehouse has a coffee and tea bar with all types of ingredients you can ask for. The treehouse will provide you with enough storage space for your stuff too.
View Photos, Read Reviews & Check Availability
---
6) Stunning Farm Themed Treehouse
Location: Ocala, Florida, United States
Price: $78+ per night
https://www.airbnb.com/rooms/39051424
The comfy treehouse is ideal for 2 guests. It will give you farm-themed getaway with your partner. You will have a raw natural experience as it is built literally in a tree. Caution: You might find a bug inside but that's inevitable with nature in its legit form. The space provided by this treehouse is about 8*15 feet which is much spacious for a group of two. The treehouse has a hammock, swing, table and chairs from where you can enjoy the farm view. When we say farm, imagine horses running or grazing right in front of you. You can also go feed them from the porch or just watch them at a distance. Truly, your treehouse stays here will give you some adorable memories of horses.
You might not get WiFi connection in the treehouse but there are 2 spots for WiFi on the property. If needed, you can use it at the seating areas near the main house. Other amenities include a double bed, essentials, coffee maker, garden and backyard of your own.
View Photos, Read Reviews & Check Availability
---
7) Treehouse Cabin Retreat
Location: Old Town, Florida
Price: $196+ per night
https://www.airbnb.com/rooms/25478740
We all need some near to nature getaway and that's why Treehouse Cabin Retreat is made for you! This treehouse brings you a chance to get closer to your loved ones. It provides enough accommodation for 7 people. Your group can enjoy the camping experience. There are nearby places suitable for scuba, boating, hunting, and much more perfect for a memorable treehouse stay. This treehouse is ideal for both relaxation and thrilling vibes and that's why it's called a retreat.
This treehouse provides you 700 square feet of rustic hunting cabin that has three beds and a washroom along with a kitchen. At the treehouse, 4 of you can sleep comfortably. It has air conditioning and heaters. There are places to wander around the cabin; visit these places to collect your firewood, and cook some dinner on the drill available here. You will see deer, woodpeckers and occasional foxes roaming around here.
View Photos, Read Reviews & Check Availability
---
8) Treehouse in Tranquil Organic Farm
Location: Live Oak, Florida
Price: $83+ per night
https://www.airbnb.com/rooms/39574894
Built among the peaceful aura of Kokomo Farms, this treehouse will bring you some childhood memories back in life. Enjoy the nights under the sky full of stars and relax in the Zen garden during the day. In the area, you can wander through the farm and the community fire pit to make memories. It is ideal for 2 people and it has a comfy full-sized bed. Your rooms are screened with curtains for your privacy. The balcony allows you to sit and gaze stars at night and enjoy the lovely view of a farm during the daytime. The treehouse has a hot tub in the garden and plenty of grassy areas. Your outdoor activities are catered by the fire pit, barbecue grill, and stovetop. There are short trails for some joyous walks with your loved ones.
WiFi is not accessible so that you have legit experience near nature. If you want to stay connected, you can bring your device. All other necessary items that you will need during your stay will be accessible. So just think of enjoying your perfect treehouse experience ever!
View Photos, Read Reviews & Check Availability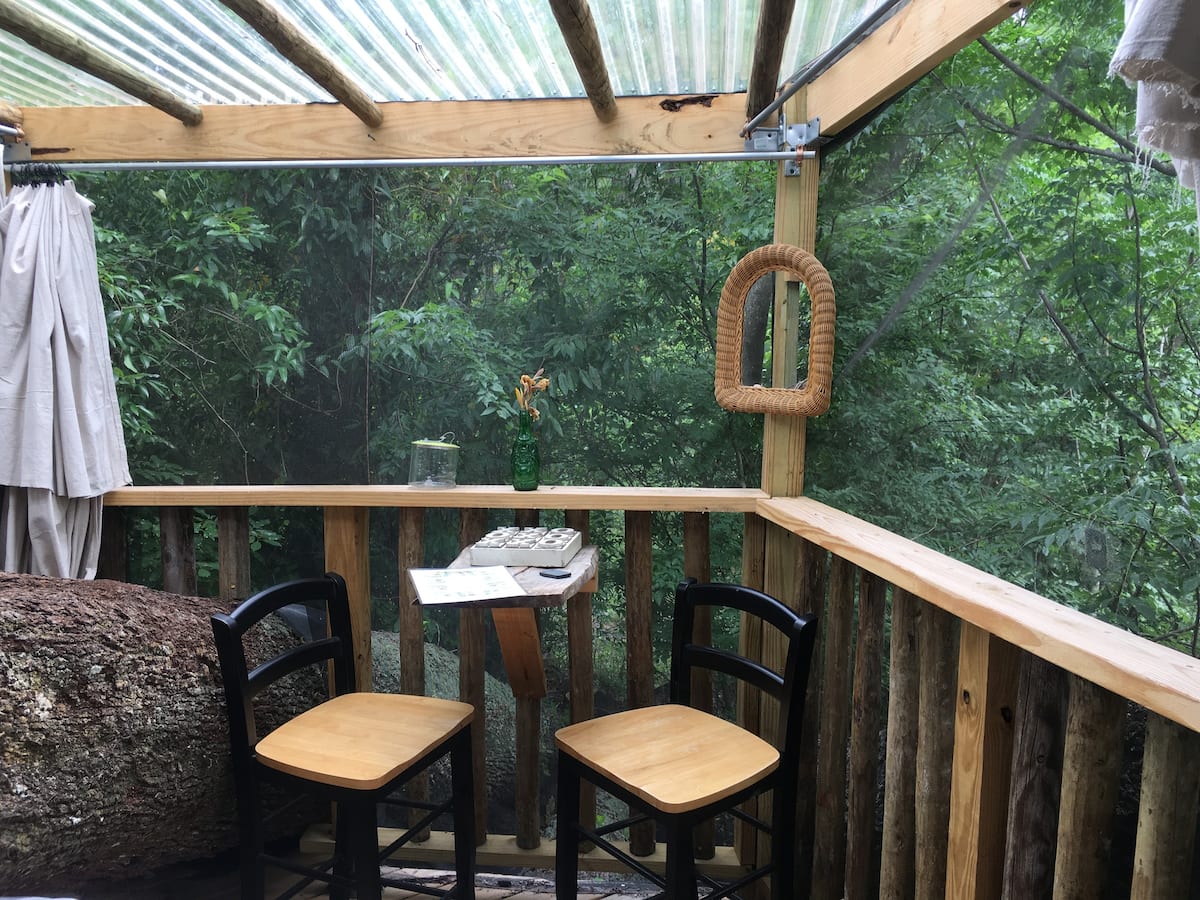 ---
9) Canopy Room Treehouse
Location: Miami, Florida
Price: $77+ per night
https://www.airbnb.com/rooms/1730089
This treehouse is surrounded by the permaculture farm ideal for a relaxing getaway located 5 minutes from the airport and south beach. It has a comfy space for two people. The area around is a lush green oasis where you will find different friendly animals to enjoy including goats, sheep, dogs, cats, and pigs. The Canopy Room Treehouse is nestled within the Pithecellobium tree from where you can view the canopy and animals. The lovely outdoor shower here will be probably your favourite part.
Miami summers are hot but this amazing tree canopy makes a cool environment for you to enjoy freely. If you visit during the rainy season, mosquitoes might disturb you but don't worry. Although not guaranteed but the net over the bed, incense, fans, and citronella candles will make sure you have a sound sleep. It has a cosy cabin room where you can make some remarkable memories with your loved ones. You will have WiFi connection here and all other necessary items that you will need during your stay.
View Photos, Read Reviews & Check Availability
---
10) Disney Relaxing treehouse
Location: Haines City, Florida
Price: $49+ per night
https://www.airbnb.com/rooms/23413165
If you are expecting some real relaxation vibe from Florida treehouse rentals, head to Disney Treehouse in Haines City. It is located 30 minutes away from Disney where serenity meets your soul. Because of the secluded location, the surrounding environment is calmer than you can think. The beautiful natural landscape view will leave you in awe as you wake up to the sound of a pet rooster. This treehouse has space for a group of 2 and can be booked for more than 28 days.
Disney treehouse will make your stay carefree with the amenities like the WiFi, TV, air conditioning, heating, first aid kit, free parking and other essentials you will need for a perfect stay.
View Photos, Read Reviews & Check Availability
---
11) Polynesian Treehouse
Location: Longboat Key, Florida
Price: $1,229+ per night
https://www.airbnb.com/rooms/1039691
Among other treehouse rentals Florida, this one is the perfect option for a big-bash treehouse stay. It has 6 bedrooms that make a spacious space for up to 16 people in its 6000 sq ft area. The secluded area brings you memorable days with your family gatherings especially. You can stay here for 30 days max. The location around is naturally gifted with blue water views with an exotic resort-like stay. Enjoy the swimming pool, hot tub, kayaking, paddle boarding and similar activities at this treehouse. Head to the beach, relax under a palm tree, and this treehouse will bring serenity.
Polynesian Treehouse has WiFi, an air conditioning system, TV in every room, and best sunset views to end your days with. The island trail is perfect for walks and everything around will not disappoint you at all.
View Photos, Read Reviews & Check Availability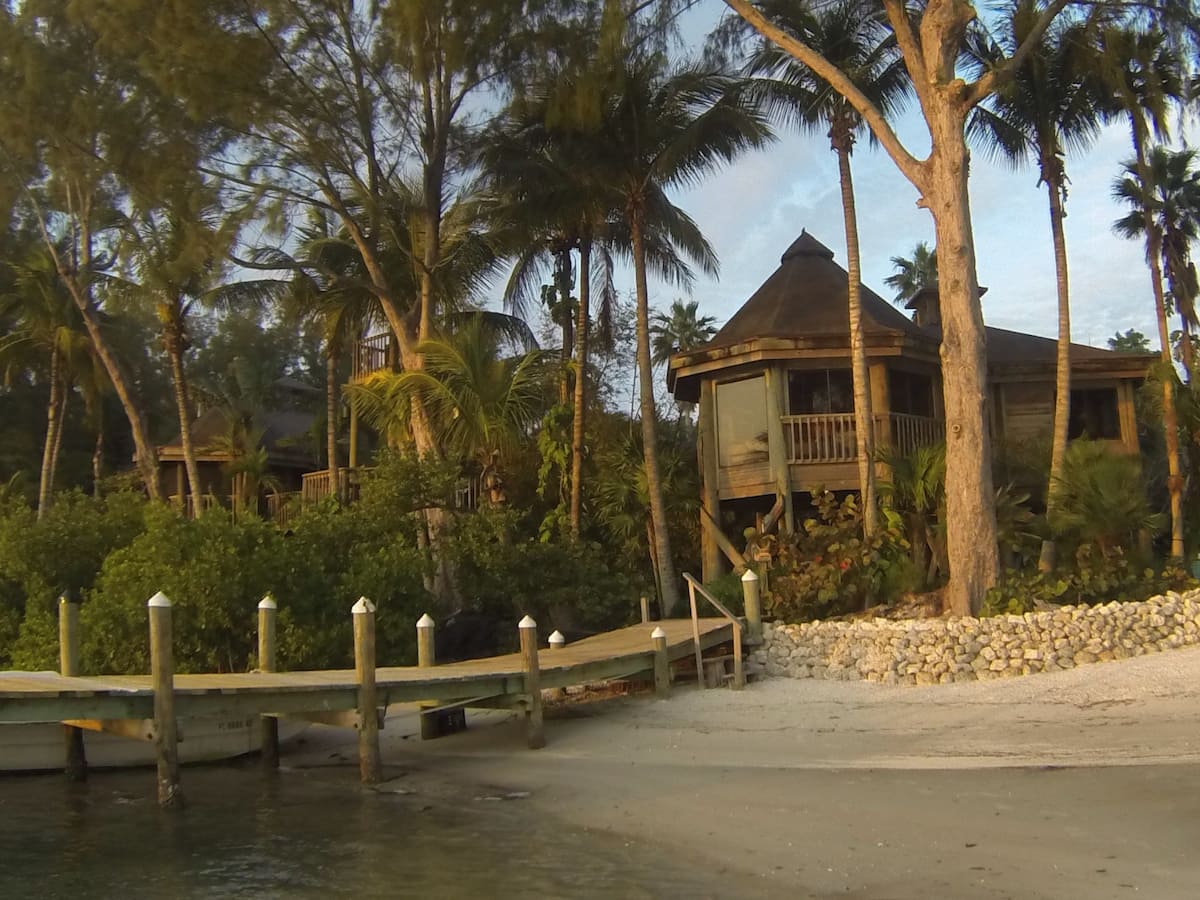 ---
12)
Treehouse in the woods
Location: Kissimmee, Florida
Price: $112+ per night
https://www.airbnb.com/rooms/39334309
Located in the Kissimmee region of Florida, this compact treehouse has been purely designed for young couples. The unique treehouse is nestled nearly 12 feet above the ground and has properly fenced stairs which make it safe to climb. Even though it is a little compact in dimensions, this treehouse is equipped with some impressive amenities and essentials which make it a marvellous place to spend holidays.
It consists of a single room where a very comfortable bed awaits you to take a nap after an intensive day of outdoor activities. The attached bathroom is nothing lesser in luxury. Similarly, you also have a very basic kitchen set up inside the room to cook when you are tired. Apart from that, there is furnished outdoors where you can enjoy the sunshine and play games in the completely magnificent forest.
From serenity focused surroundings to joyous nearby activity spots, Treehouse Rentals Florida make up for a real getaway for you. Choose the privacy of your treehouse location and enjoy some time away from day-to-day stress.
View Photos, Read Reviews & Check Availability
---
13)
The Beehive Treehouse
Location: Orlando, Florida
Price: $119+ per night
https://www.airbnb.com/rooms/50923781
With a 5 star rating, this treehouse is the perfect place for a weekend getaway. Just outside the tourist zone of Orlando, you can comfortable relax in this large treehouse, but close enough to venture out for activities. Enjoy a Netflix and chill night watching your favorite movies and shows on the 80 inch TV. Or enjoying a relaxing bath amongst nature in the outdoor claw-foot bathtub. To further your relaxation, take a dip in the onsite hot tub, hammock, or roast marshmallows on the fire pit. If you're looking to enjoy the sunshine, you can use the bicycles or take a dip in the lake.
View Photos, Read Reviews & Check Availability
---
14) North Island
Treehouse
Location: Fort Pierce, Florida
Price: $153+ per night
https://www.airbnb.com/rooms/21312744
If you're looking for a unique stay close to the beach, this treehouse is the perfect place for you. This extra large treehouse comes with 2 bedrooms to accommodate families and friends. You're just 2 blocks from where the beach joins Fort Pierce State Park. Enjoy your private deck and outdoor shower after the beach, or climb the spiral stairs to the balcony and sun bathing area. Your stay also includes use of 2 beach bikes, 2 body boards, sand umbrella, 2 beach chairs, and beach towels.
If you're seeking a night on the town, bars and upscale restaurants are just a 10 minute drive to Ft. Pierce or 20 minutes up A1A to Vero Beach.
View Photos, Read Reviews & Check Availability
---
15) Naples Lakefront
Treehouse
Location: Naples, Florida
Price: $165+ per night
https://www.airbnb.com/rooms/27812406
Considered a "glamping" experience, this 2nd story treehouse is located on a 5 acre organic farm. It's a perfect location for those who love the outdoors and want to connect with nature, watch for shooting stars, listen to the birds, and let the crickets sing you to sleep. A completely eco-friendly sanctuary, running "off the grid" to disconnect from the internet and television. Downtown Naples is a short 10 minute drive for all of your shopping, restaurant and nightlife needs.
View Photos, Read Reviews & Check Availability
---
16) Naples Lakefront
Treehouse
Location: Naples, Florida
Price: $150+ per night
https://www.airbnb.com/rooms/32196005
Located a short distance to some of the most beautiful beaches in the world, come unwind in this unique and secluded treehouse. Enjoy your morning coffee at the peaceful under house seating area with grill, spend your nights enjoying some hot cocoa and smores in front of the fire pit, or relax in your private jacuzzi. Your stay includes use of bicycles which you can take to the beach or cruise through surrounding nature.